Image from BookLife.com
Told in three parts, the stories of an old ship and a displaced family are woven together in this quiet story of change. The ship once gloriously sailed in the sun with important people aboard, but as time went by it was abandoned. The family once lived in a grand house, but as time went by they, along with everyone in their village, lost everything. Fortunately, the villagers find the ship and make it useful again. Originally published in Switzerland, the painterly illustrations using muted greys, blues, reds, and yellows create an atmosphere of a bygone era. The fable-like text uses the repeated title refrain to tie the elements together.
Image from Scholastic.com
This collection includes one short poem for each planet (plus a few other astronomical objects). I used this book during an outreach visit with 3rd and 4th graders with great success. I asked the kids to shout out a planet and then read that poem. Thanks to the handy-dandy table of contents, it was easy to jump around from poem to poem. The illustrations, created with gouache, collage, and rubber stamps on primed brown paper bags, are full of astronomical and mythical details. The book finishes with "A Galactic Glossary" featuring a short paragraph about the planets, stars, our moon, comets, etc.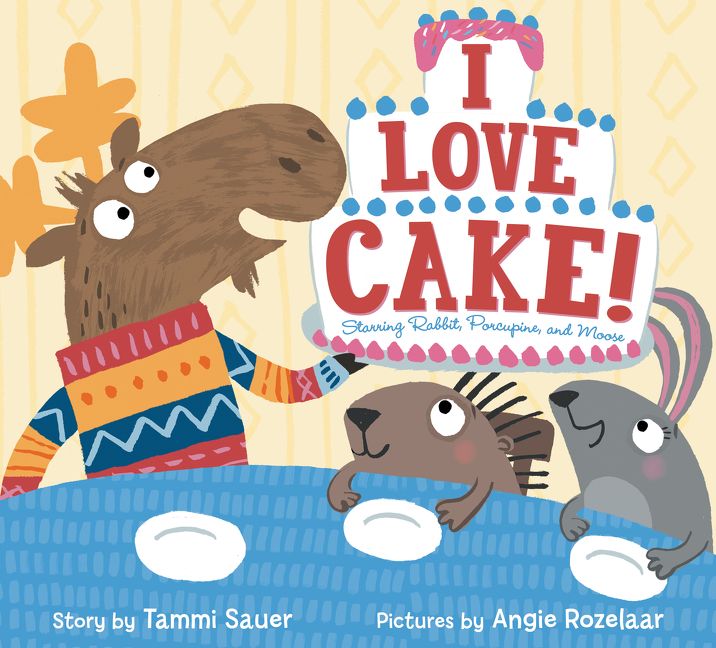 Image from HarperCollins.com
I Love Cake by Tammi Sauer, illustrated by Angie Roselaar
Katherine Tegen Books, 2016
It's Rabbit's birthday and her friends Porcupine and Moose are excited to throw a party. They jump on the trampoline and play pin the tail on the chipmunk, but when it's time for cake, it's nowhere to be found! Moose tries to lie, but eventually he fesses up to his crime. Can he ever make it up to his friends? Told in a combination of narrative and dialogue, this humorous book stars a bumbling, but lovable moose. The text is large and bold, making it easy to use this book for a preschool or early elementary storytime. The brightly colored brush, India ink, and Photoshop illustrations add to the comic timing of the story.
Image from HyewonYum.com
Farrar Straus Giroux, 2016
It's raining and a young boy is absolutely bored. His mother invites him to draw with her, but he's too stubborn. So mom entices the boy into the game by drawing a blue umbrella and then the boy holding it. Soon the two are drawing together, creating a rainy day adventure on paper. Use this book in a preschool storytime to model and encourage the ECRR 2 practices of talking and writing. The all dialogue text, red for mom, black for the boy, conversationally pushes the simple story along. The drawn illustrations feature rosy-cheeked characters and thoughtful details throughout. Don't miss the whimsical endpapers!