Image from HopeVestergaard.com
Digger, Dozer, Dumper by Hope Vestergaard, illustrated by David Slonim
Featuring sixteen different vehicles from cement mixers to snowplows, excavators to fire trucks, this collection of poetry is action-packed. The short poems have great rhythm and, often, rhyme. The vocabulary is impressive, yet always clearly explained in context. The acrylic and charcoal illustrations are cartoonish and feature three diverse kids and their devoted dog exploring each vehicle. I recently read several poems from this book in my preschool storytime with great success.
Image from BoydsMillPress.com
Fresh Delicious: Poems from the Farmers' Market by Irene Latham, illustrated by Mique Moriuchi
This collection of twenty-one poems celebrates the glorious sights, smells, and tastes of a farmers' market. The short, lighthearted poems are arranged simply, yet attractively on the page pairing beautifully with the whimsical acrylic and collage illustrations showing a variety of animals extolling the virtues of their favorite fresh and delicious produce. Enjoy such bite-sized delicacies as a small rabbit contemplating the many flavors of lettuces, a pig and a skunk taking in the fuzzy sweetness of peaches, two mice having an okra duel, and a piratical hippo and giraffe discovering a treasure chest of farm-fresh eggs. Six recipes (to be completed with a grown-up helper) round out this delectable poetry collection. These are lovely poems to share with toddlers and preschoolers.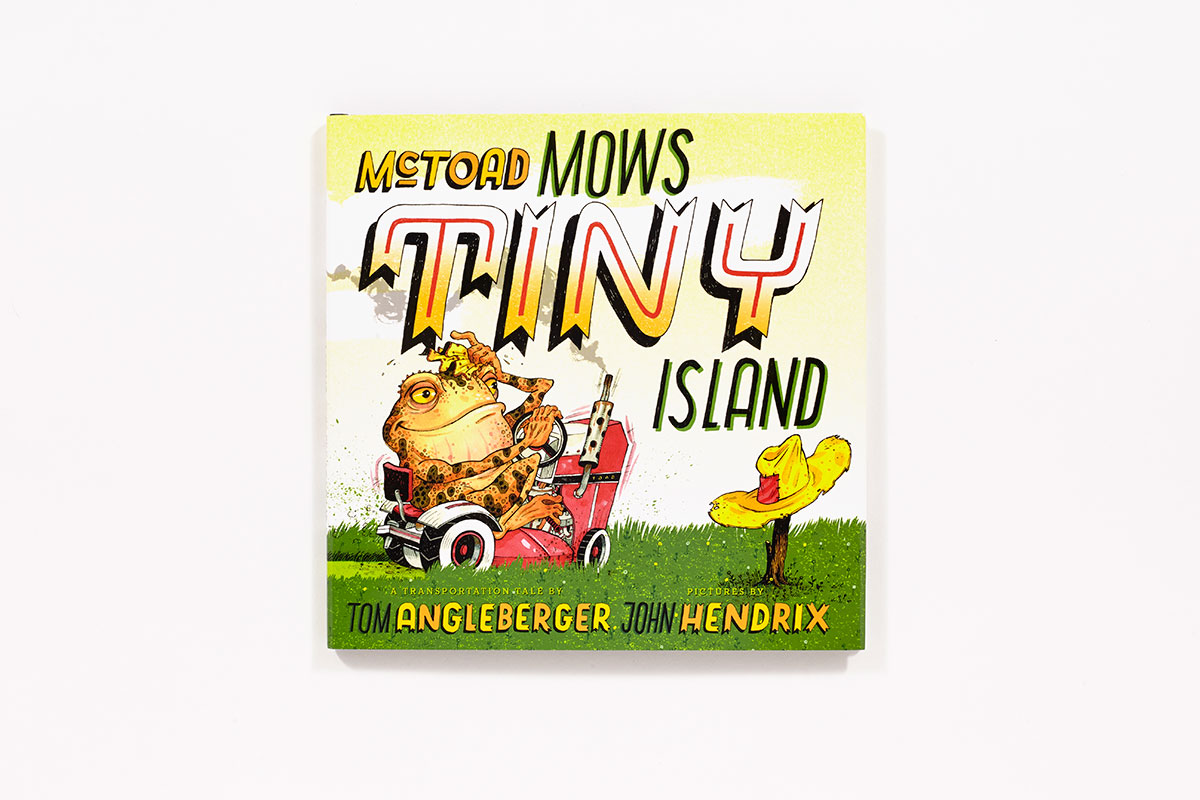 Image from AbramsBooks.com
McToad Mows Tiny Island by Tom Angleberger, illustrated by John Hendrix
Abrams Books for Young Readers, 2015
In this completely ridiculous, laugh-out-loud story hardworking McToad shares his love of Thursdays. Every other day of the week he mows Big Island, but on Thursdays he mows Tiny Island. Using every form of transportation imaginable from a truck to a forklift, a baggage buggy to a crane, McToad takes his riding mower to the oh-so-teeny island. The illustrations, rendered with pen and ink with fluid acrylic washes, make great use of lines and shading to create perspective. The drily serious text builds up to the hilarious climax. Read this book with a preschool or elementary aged audience and talk about the many decorative fonts used throughout the story.
Image from Macmillan.com
Stop Snoring, Bernard! By Zachariah Ohora
Henry Holt and Company, 2011
Bernard the otter loves living at the zoo. The food is tasty and his friends are awesome. Unfortunately, the other otters aren't so happy with Bernard at naptime. Bernard just can't sleep without snoring, really, really loudly! One day Grumpy Giles has enough and Bernard sets off to find a new place to nap. Will Bernard ever find a place where his snoring won't disturb someone? The thick black outlines and bright colors of the acrylic illustrations make Bernard and his zoo friends pop off the page. The narration is simple, yet propels the story forward with urgency. Read this to a preschool storytime crowd and have them shout the oft-repeated words, "Stop snoring, Bernard!"
-Amy