Image from Ruzzier.com
Bear is looking for some honey, but he's terribly afraid of bees. Bees are monsters with claws and fangs. Worst of all they never share. So what will Bear do when he meets Bee? The illustrations, created with pen and ink and colored digitally, are whimsical and otherworldly. The text, just a sentence or two per page, is mostly dialogue. Many words are repeated throughout, making this a wonderful book for a beginning reader.
Image from ChronicleBooks.com
Falump, beep, and grrrakka along with machines at a construction site in this energetic and noisy board book. Colorful diggers created with mixed media share the extra long pages with the rhythmic and bold all-caps text. Set off against a crisp white background, the illustrations make create use of texture and thick, glossy black lines. If you like this one, check out
Trains Go
,
Boats Go
,
Planes Go
, and
Trucks Go,
all by Steve Light.
Image from SLJ.com
Mr. Squirrel and the Moon
by Sebastian Meschenmoser
Originally published in Germany, this is the story of Mr. Squirrel who wakes up one morning because the moon has fallen onto his tree. Mr. Squirrel is afraid. What if someone finds the moon, looking suspiciously like a wheel of cheese, in his tree and thinks he's the thief! He'll be sent to prison. This sets off a chain of hilarious events involving a prickly hedgehog, an angry billy goat, buzzing bees, and a gaggle of mice. The illustrations, which look to be color pencil, utilize color to highlight the action against the colorless backgrounds. Frequent flashes to Mr. Squirrel's imaginings of life in jail are juxtaposed with the simple text.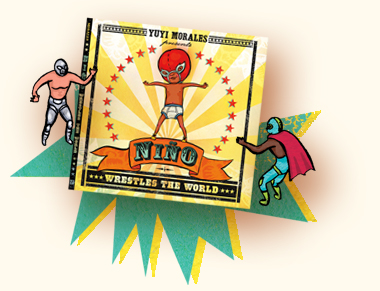 Image from YuyiMorales.com
Roaring Brook Press, 2013
Here he is! The one, the only, the fantastic, the spectacular, Nino! He's a pint-sized Lucha Libra champion ready to take on any and all contenders! Cabeza Olmeca, La Llorona, El Chamuco--None of them stand a chance. But what's a wrestler to do when faced with the most horrid competitor of all, Las Hermanitas (his baby sisters)? The bright and cartoonish illustrations are a perfect match for the larger-than-life narration. Sprinkled liberally with Spanish words, use this multicultural story for your next preschool or early elementary read aloud. Check out the wrestler stats (and pronunciation guide) on the endpapers.


-Amy