Image from ChronicleBooks.com
Mix It Up by Hervé Tullet
Chronicle Books, 2014
9781452137353
In the spirit of his wildly popular
Press Here
, Tullet tackles colors in a highly interactive and playful manner. The cheerful text provides instructions that encourages readers to explore color mixing and to make predictions. The painted illustrations are vivid and textured as the colors splash and spatter about the pages. This is a great book for an all ages storytime or for one-on-one sharing. It also supports the ECRR2 practice of play.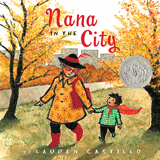 Image from HMHCo.com
Nana in the City by Lauren Castillo
Clarion Books, 2014
9780544104433
Nana lives in New York City. A place her small grandson finds busy, loud, and full of scary things. But then Nana makes him a cape to keep him brave and shows him all the things she loves about her city. Simple text paired with vibrant colors and bold black outlines give the illustrations a playful, cartoonish tone. Castillo has created wonderfully modern and vivacious grandmother. Share this with a child before visiting the city or visiting a grandparent.
Image from RandomHouse.com
Quest by Aaron Becker
Candlewick, 2014
9780763665951
The sequel to last year's
Journey
, this wordless adventure turns a rainy day at the city park into a magical quest. The two friends from Journey, armed with their red and purple chalk sticks, use their imagination to follow the clues on a map and save the hidden kingdom. The detailed watercolor, pen and ink illustrations draw the reader into the story, searching for clues and anticipating the adventure on the next page. This book is fascinating and enjoyable as a standalone title, as well as a sequel. Try giving this book to a child on a rainy afternoon. Check out the tantalizing
book trailer
.
Image from RandomHouse.com
Tiny Creatures: TheWorld of Microbes by Nicola Davies, Illustrated by Emily Sutton
Candlewick, 2014
9780763673154
This non-fiction title celebrates the microscopic, yet vitally important, world of microbes! Engaging and concise, the text compares and contrasts the size and number of microbes in an easily relatable fashion. The watercolor illustrations feature a red-headed pair of children and their cat who explore the world of microbes along with the reader. A vast variety of microbes are presented in visually stunning ways using the large trim size well. Although more indepth information on microbes would have been a nice addition to the back matter, this is still a wonderful title to recommend for an elementary classroom read aloud. It is a great introduction to microbes and it has a solid STEM connection.
-Amy