Image from Us. PenguinGroup.com
A Dance Like Starlight: One Ballerina's Dream by Kristy Dempsey, Illustrated by Floyd Cooper
Penguin Books, 2014
9780399252846
Full of beautiful and inspiring imagery, Dempsey's poetic text is written from the perspective of a young African-American girl in the 1950's. A girl who hardly dares to hope that her dream of becoming a ballerina could ever come true. But then she sees Janet Collins, the first "colored" prima ballerina, perform at the Met and she can feel hope rising around her. The dreamy mixed media illustrations, soft-edged and sepia toned, pair nicely with Dempsey's precisely worded text, full of hope and longing. Dempsey writes in her author's note that although the girl in this story is fictional, Janet Collins was a real person. This is a great book to share one-on-one or in a classroom setting for elementary aged kids.
Image from BobShea.com
Don't Play with Your Food by Bob Shea
Disney Hyperion, 2014
9781423168072
Buddy the monster is all set to eat the fluffy white bunnies, "Hey, guys! Hop in my mouth so I can eat you!" But then they offer him cupcakes. And take him to the carnival. And they go swimming. And they even create the Stripey-Stripe Club in his honor! Buddy played with his food and now he's confused! Are the bunnies food or are they friends? What's a monster to do? The neon colors and the bold lines compliment Shea's hilarious text that just begs to be read aloud to preschool and elementary aged kids.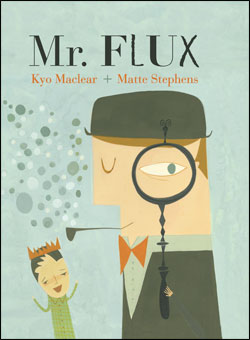 Image from KyoMaclearKids.com
Mr. Flux by Kyo Maclear, Illustrated by Matte Stephens
Kids Can Press, 2013
9781554537815
Martin is just fine with his routine life in his unchanging neighborhood with predictable family and neighbors. It's not that he doesn't like change, it's just that he doesn't know change. But all that changes the day Mr. Flux moves in next door. He calls himself an artist, but he doesn't make anything "art-like." Soon, Martin is not only trying new things, but he's enjoying them! In this wonderfully quirky book very loosely based on the Fluxus artist, George Maciunas, the beauty and joy of change is celebrated. The clever and philosophical text will make readers think. The flat gouache illustrations whimsically play with perception and space as Mr. Flux introduces Martin to all sorts of new experiences, like playing tennis while riding turtles and spinning toy rabbits on record players. This is a fun book to share one-on-one or to read aloud to an elementary aged group.Try pairing it with Pinkwater's
The Big Orange Splot
.
Image from Books.SimonAndSchuster.com
Yellow is My Color Star by Judy Horacek
Beach Lane Books, 2014
9781442492998
Using fun rhymes and questions that invite young readers to participate, the child in this book (wonderfully gender neutral) extols the virtues of the color yellow. Large, bold text stands out against white pages complimented by Horacek's watercolor illustrations. The book boasts an energetic cast of children of all skin and hair colors joyfully moving through a colorful landscape. Use this short and playful book for toddler storytime.
-Amy