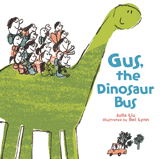 Image from hmhco.com
Gus, the Dinosaur Bus by Julia Liu, Illustrated by Bei Lynn
Some kids walk to school, or ride in a car, or take an ordinary yellow bus, but not the kids in this book! They get to ride to school on Gus, the dinosaur bus. The whole town loves Gus, they even build a road just for him (so he won't step on cars), but Gus is so tall he sometimes gets tangled in telephone wires and his tail is so long he puts holes in buildings. Gus loves his job as a dinosaur bus, what will he do when the school tells him he has to stop? Lynn's watercolor and ink illustrations mimic colored crayons and Liu's text rolls along at a quick pace. A great read aloud for preschoolers that opens the magical door to "what if…"
Image from Scholastic.com
Little One Step by Simon James
Three little birds get lost one day and have to find their way through the forest, across the meadow, and back home to Mama. The oldest and middle ducklings aren't worried at all, but the littlest duckling doesn't think he can do it! His legs are all wobbly and he wants his Mama! Luckily, his older siblings teach him how to do the One Step all the way home. The watercolor and ink illustrations compliment this sweet story that features a supportive and caring sibling relationship.
Image from us.PenguinGroup.com
Please Bring Balloons by Lindsay Ward
The unexpected adventure began at the zoo the day Emma found a note hidden on the Polar Bear on the carousel. The note said to bring balloons. So Emma did. And soon she and the polar bear are off on a grand journey up to the sky, above the city, into the stars, and through an icy landscape. This imaginative tale is accompanied by whimsical mixed media illustrations that utilize a variety textures and cut papers. A great bedtime story.
Image from AmeDyckman.com
Tea Party Rules by Ame Dyckman, Illustrated by K. G. Campbell
One day a little bear cub smells something delicious. So he follows his nose through the woods and finds a table all set for tea with mouthwatering cookies. He's just about to take a bite, when a little girl comes out of the house. Poor Cub, he just wants those cookies, but the little girl has a lot of tea party rules! This hilarious book builds as each rule is more ridiculous in the last until Cub finally snaps in a humorous twist of an ending. Campbell's detailed sepia marker and colored pencil illustrations are mischievous and lively. The text balances dialogue and narration and is just right for reading aloud. Check out the fun
book trailer
for a sneak peek.
-Amy