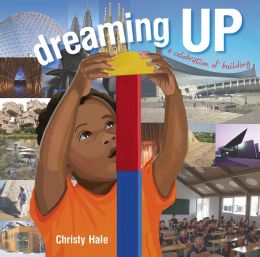 Image from BarnesandNoble.com
This concept book draws comparisons between structures built by children and buildings designed by famous architects. Each two page spread features an illustration on the left-hand side of children and a structure they have built from everyday objects: cardboard boxes, sofa cushions, blankets and chairs, blocks, Legos, and more. On the right side is a photograph of a building that corresponds in shape, color, material, or aesthetic. The illustrations depict a variety of skin and hair colors and the photographs show buildings from all over the world. Each page has a few lines of rhyming text, like little poems, that celebrate buildings and builders, shapes and textures, lines and colors. Hale lays out her text like concrete poems to resemble the building or building material shown. Back matter includes more information on the buildings spotlighted in the book, short biographies of the architects, and meticulous source notes. Great for a construction or building themed display or program. This book is a wonderful tie into the CSLP Summer Reading Program theme for 2013, Dig into Reading. Try pairing this book with
Iggy Peck, Architect
.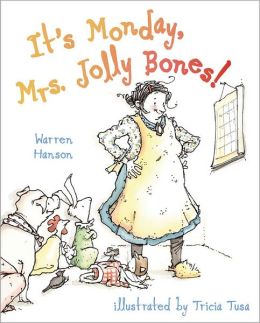 Image from BarnesandNoble.com
Mrs. Jolly Bones has a lot of chores, so she does just one chore each day of the week. On Monday she works hard to get the laundry done. She washes and dries, irons and folds. Then she happily throws all the clothes out the window to brighten up the street! The rest of week is just as hilarious as Mrs. Jolly Bones tackles more chores, such as gardening, grocery shopping, and baking. At the end of the week Mrs. Jolly Bones goes to bed exhausted, but happy to have finished all her chores...just in time to wake up and do it all again on Monday morning! The rhyming text moves along at a quick rhythmic clip. Tusa's illustrations are joyful and hilarious. A great book for kids who love
Amelia Bedelia
or
Mrs. McNosh Hangs Up the Wash
. A fun addition to a silly, nonsense, or topsy-turvy storytime.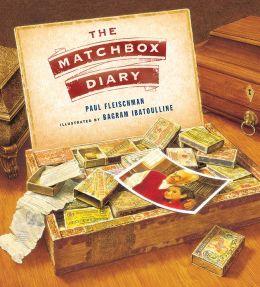 Image from BarnesandNoble.com
In this beautifully conceived and illustration picture book a young girl visits her great-grandfather. He tells her to pick something from the study and he will tell her its story. The girl picks an old worn cigar box, which is neatly packed with little matchboxes. Inside each matchbox is an item that represents a part of her great-grandfather's life. As a boy, her great-grandfather could not read or write, so instead he kept items – an olive pit, a bottle cap, a pen nib, a baseball game ticket stub – in matchboxes, like a diary. The story begins with his childhood in Italy, and follow his immigration to the US in the early 1900's and his passion for words that leads to a career as a typesetter and bookstore owner. All of the text is dialogue between the two characters, with wonderful descriptions of the objects and their meaning. Ibatoulline's illustrations are realistic and there is a clear separation of the past and present. The present day is vividly colored and sunlit, while past events are depicted in sepia tones, much like old photographs. Use this book with elementary school aged children and up. Give kids a matchbox and have them fill it with an item and then encourage them to write or tell the story of that object. If you could find all the objects mentioned in the story, it would be great to read this story with the props. Pass each matchbox around the room as it appears in the story.

Image from Powells.com
Using just a handful of words and another handful of question marks, this is a guessing game of a book. First, readers are presented with a solitary question mark on the left hand page and on the right a set of shapes cut out from the white paper. The color of the next page provides a tantalizing peek of the illustration on the next page. Turn the page and the shapes have been rearranged to create an animal. Kids will enjoy guessing the animals, from a sheep to a frog, an owl to a goose. The cut outs are tactile and fun to feel, providing a wonderful sensory connection. Use this book for a storytime on shapes for toddlers or preschoolers. Try pairing it with other shape books, like
My Heart is Like a Zoo
.
Note: This book was recommended to me by an 11 year old boy that I babysat earlier this year. We took a trip to the library and he made me check out this book and gave me strict instructions to read it and enjoy it. He'll be happy to know that I've dutifully followed his orders.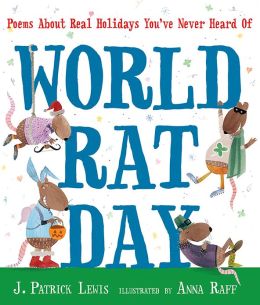 Image from BarnesandNoble.com
This hilarious poetry collection features 26 poems about 22 real holidays, from World Rhino Day to National Sloth Day, from Limerick Day to Bulldogs Are Beautiful Day. Poems are presented in calendar order starting with Happy Mew Year for Cats on January 2 and ending with Chocolate-Covered Anything Day on December 16. The short poems vary in format, but nearly all poems end with a humorous twist. The wordplay is smart and funny and will appeal to poetry lovers and newbies alike. Poems are accompanied by humorous rat-filled illustrations that create a chaotically festive atmosphere. If you're looking for ways to incorporate poetry into your classroom or storytime, try reading a poem from this book on or around the poem's holiday. You could also have kids pick another lesser-known holiday as the theme for their own poem.
-Amy