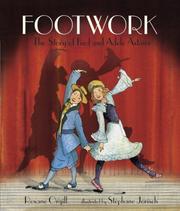 Image from OpenLibrary.org
Footwork: The Story of Fred and Adele Astaire
by Roxanne Orgill, Illustrated by Stéphanie Jorisch
This well-researched picture book biography introduces readers to the brother-sister dancing duo that took Vaudeville and Broadway by storm. The book traces the siblings from the day four and half year old Fred began to dance through to Fred's successful movie career. Although Orgill spotlights the high points in both siblings' careers, she doesn't shy away from depicting the hard times the family went through or the disappointments the duo experienced on the road. The illustrations are exaggerated and full of movement. The length and depth of the text makes this book suitable for elementary school aged children and older. Source notes and further reading/listening/viewing suggestions are included at the end of the book. Read this book before or after watching one of Fred Astaire's classic movie musicals (My favorites are
Shall We Dance
and
Royal Wedding
).
Goat was grumpy. None of the other animals could cheer him up. Ever. That's how grumpy he was. Goat had never had a friend and he didn't like to share. And did I mention he was grumpy? But everything changes one day when Goat happens upon a dandelion. This beautifully illustrated book (acrylic and oil paints on paper) explores different moods and the many different ways one can be a good friend. Emotions are clearly depicted with facial expressions and body language. Descriptive, yet short sentences paired with large illustrations make this a good choice for storytime.
Image from LolaSchaefer.com
One Special Day: A Story for Big Brothers and Sisters
by Lola M. Schaefer, Illustrated by Jessica Meserve
As the title suggests, this book is a celebration of older siblings. Spencer is a boy who thinks of himself as strong as bear, fast as a horse, tall as a giraffe, etc. Until one special day when Spencer became a brother and then he was quiet and gentle. The digital oil pastel illustrations depict an energetic boy romping through the garden with a menagerie of animals. The name of each animal is intentionally omitted, encouraging readers to shout out the answer, making this a great choice for storytime. Pair it with other sibling books, such as
Bye-Bye Baby
or
BigSister, Little Sister
.
Image from KateCoombs.com
Water Sings Blue: Ocean Poems
by Kate Coombs, Illustrated by Meilo So
This book, winner of the Lee Bennett Hopkins Poetry Award, was recently named an ALA Notable Book for Children for 2013. Beautiful watercolor illustrations accompany poems that glory in the wonders of the ocean. From hermit crabs to sea urchins, driftwood to tides, the short poems encourage readers to take a closer look at marine life. The poems are a mixture of rhyming and non-rhyming. Some are clever, others are humorous or thoughtful. Try incorporating individual poems into a storytime on fish or ocean life. Independent readers will enjoy flipping through the book to read poems and examine the artwork.
Image from DebiGlioriBooks.com
What's the Time, Mr. Wolf?
by Debi Gliori
Featuring a variety of clocks and frequent repetition of the refrain, "What's the Time, Mr. Wolf?" this story helps children practice time telling skills while enjoying a funny story. It's a special day for Mr. Wolf and as he does his chores and runs errands, the other fairy tale creatures are busy getting a surprise birthday party ready for their friend. The watercolor and ink illustrations are full of humorous details. Use this book with other books about time, like
What Time Is It, Mr. Crocodile?
You could also use this book for a fairy tale themed storytime or unit. Try pairing it with
Extra! Extra! Fairy Tale News from Hidden Forest
or
Mirror, Mirror: A Book of Reversible Verse
.