I know I said I was done with this blog, but I had a few requests to continue recommending books. I don't have time to write every day because I've got a new blog for 2013 (
Chapter Book Explorer
). However, I thought it would be fun to post at the end of each month with a round-up some of my favorite picture books (no repeats from last year!). I'm going to try to make the round-ups a mixture of classics, older gems, and newly published books. I think this will also be a great way for me to continue expanding my mental catalog of picture books.
Image from HMHBooks.com
Holly Evans, 3
rd
grader and budding scientist, decides to launch vegetable seedlings into the sky for her school science project. A few weeks later, on June 29, 1999 to be exact, Holly is thrilled to learn that giant turnips have floated down in Billings, Montana and enormous cucumbers are circling Kalamazoo, Michigan! But Holly gets suspicious when she hears about arugula in Ashtabula and avocados in Vermont; She didn't send out those vegetables! So where did all these vegetables come from? Pair this fantastical book with the
Cloudy with a Chance of Meatballs
for a storytime about vegetables for preschoolers or elementary aged kids. Wiesner's illustrations are lush and detailed. Check out his other books, including my favorites:
Sector 7
and
Flotsam
.
Image from KGCambell.com
Cousin Clara's cottage is consumed by crocodiles, so she come to live with Lester's family. At first everything is fine, but then Cousin Clara begins knitting dreadful sweaters for Lester and he is forced to wear to school. As soon as Lester manages to rid himself of one sweater, another appears! What's a boy to do? Great for a preschool audience, try pairing it with
Extra Yarn
(which was just named a Caldecott Honor Book!) or
Woolbur
for a yarntastic storytime.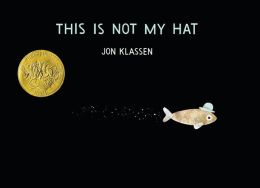 Image from BarnesandNoble.com
Just named the 2013 winner of the Caldecott Award, this book is the drily humorous tale of a fish who has stolen a hat from another fish. The fishy thief is on the lam, but don't worry, he has a plan! Pair it with Klassen's earlier book,
I Want My Hat Back
. Check out the
book trailer
for a peek at the illustrations and tone of the book.
Image from HarperCollinsChildrens.com
This version of the classic three pigs story is derailed when the illustrator spills his juice on the house of straw, stops the wolf from huffing and puffing to redraw his nose, and then runs out of red paint. Use this book with preschools and elementary school kids for a hilarious addition to a fractured fairy tale, pigs, or color storytime. It's also a fun way to segue into a conversation about illustrators and authors.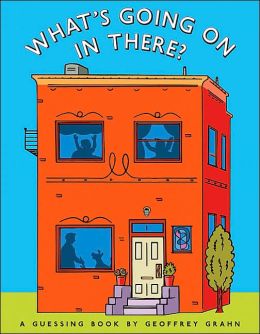 Image from BarnesandNoble.com
This guessing game book encourages readers to think outside the box as they imagine what might be going on in each building in Grahnville, USA. For instance, based on the silhouettes seen through the window of Dino's Pizza you might think Dino and his brothers are making pizza. But when you turn the page, you'll realize the men aren't making pizza, they're building a dinosaur! The text is full of wordplay (Dino's brothers are Bronto, Stego, and Pterry) and humorous twists that will have readers giggling. Use this for a "guess what?" storytime, try pairing it with books like
Guess What!
and
Mr. Putney's Quacking Dog
.
-Amy