Image from BrianFloca.com
Locomotive by Brian Floca
This beautifully detailed non-fiction picture book examines and explores the way locomotives changed the country as a family takes a cross country trip from Omaha to San Francisco. The book is set in 1869, shortly after the railroad was completed. The rhythmic text, which incorporates sound effects, vividly conveys the motion, sights, sounds, and smells of traveling and working on a locomotive. Floca expertly utilizes a variety of fonts to convey emotion and motion. The evocative text and the lively illustrations combine to paint a detailed picture of train culture. This includes the ins and outs of traveling and working on a train, as well as the mechanical workings of steam trains. Use this book as a jumping off point for discussing geography, as Floca's illustrations include place names as the train travels across the U.S. The detailed notes at the back of the book include information on how/why/who built the railroad and how it changed the country. Don't miss the awesome endpapers!
Image from BenClanton.com
Mo's Mustache by Ben Clanton
Mo Joe is super excited to get his brand new "big, black, beautiful" mustache in the mail and even more excited to show it off to his friends. Except then his friends start wearing mustaches, too! So Mo ditches his 'stache and tries out a "long, lined, and lovely" scarf. But what is Mo to do when everyone copies him again? This humorous read aloud that starts with a mustache and ends with a fashion show, is an ode to being yourself and rocking it. Fun fonts and speech bubbles pair nicely with the watercolor and ink illustrations. This book is on my list to try out with elementary school aged kids.
Image from ChronicleBooks.com
On a Beam of Light: A Story of Albert Einstein by Jennifer Berne, Illustrated by Vladimir Radunsky
This picture book biography focuses on Einstein's unique ability to question and think about new ideas. Rather than relating dates and facts, the text, along with the back matter, explores the major ideas and traits that made Einstein so remarkable. This allows the narrative to move along at a quick pace. Like the text, the loose, childlike illustrations also convey ideas rather than literal depictions of Einstein's world. Share this book with a group of elementary aged kids to inspire them to learn more about this fascinating man.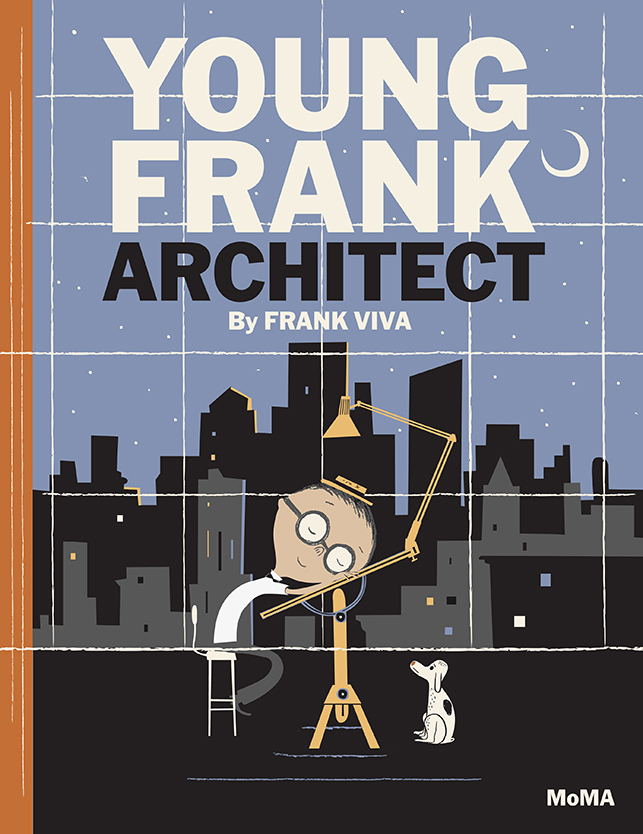 Image from MOMA.org
Young Frank Architect by Frank Viva
Young Frank is an architect who lives with his small dog Eddie and his grandfather, Old Frank. Young Frank loves to create architectural designs with anything and everything (even Eddie!), but he becomes discouraged when Old Frank tells him his designs aren't anything like the ones real architects make. Real architects don't make twisty towers or squiggly chairs. Or do they? After a trip to the Museum of Modern Art Old Frank thinks maybe he's a little younger and a little wiser. Back matter includes more information on several prominent architects (many of them named Frank) whose work is featured in Viva's striking illustrations. Read this book before or after going to a modern art museum.
-Amy