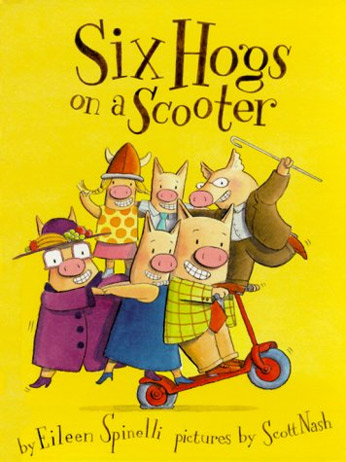 Image from EileenSpinelli.com
The Hog family is ready to go to the opera tonight. They've bathed and dressed in their fanciest duds, but when they get into Father Hog's car it won't start! Young Horace Hog has a scooter and so all six pigs jump on the tiny scooter. "Six Hogs on a scooter makes an interesting sight." Unfortunately, they hardly move before the tires go flat. So Penelope Hog pulls out roller skates and the Hogs are soon on the road again, but it turns out that most of them can't skate very well at all. "Six Hogs on roller skates makes an interesting sight." The Hogs are determined to get to the opera, so they try a cart, but there's nothing to pull it, and a hot-air balloon, but it won't get off the ground. Finally, Grandma Hog saves the day, "Can anyone tell me why we just don't take the bus?" However, by the time they reach the opera house the opera is over and the opera house is locked up for the night. The Hogs just don't have the energy to canoe home, so they settle down on the bench to wait for the morning bus, "Six Hogs sleeping at a bus stop makes a very interesting sight."
Between the repetitive refrain, "Six Hogs on a _____ makes an interesting sight," Spinelli's lively text describes the actions of the Hog family who are determined to hear some opera. Each family member, from Grandpa Hog to little Horace Hog, gamely suggests a mode of transportation in dialogue that is concise, yet playful. Nash's humorous watercolor and ink illustrations are bright and cartoony. The Hogs are colorful in both senses of the word; They're just so excited to go to the opera and their "fanciest clothes" run the gambit from a nice dress and pearls to a Viking hat and sneakers. Readers will get a good giggle from the illustrations that show the family squeezing into each vehicle. There's something wonderfully silly about six Hogs in a hot-air balloon.
Tell this story with a flannel board to keep a visual list of all the modes of transportation mentioned in the book. After you finish the book have the kids help you "remember" all of them. Pair this book with other "how will we get there?" stories, such as
The Rattletrap Car
,
To the Beach
, or
How Will We Get to the Beach?
If you are reading this book to elementary school aged kids use the format of this book to tell your own "how will we get there?" story. Pick some characters (you can use the Hog family, fairy tale characters, or simply some names you like) and pick a starting and ending location (the forest, the ball, the castle, the ice cream shop, home, etc.). Take turns telling about the next mode of transportation the characters use. You could have each kid write and illustrate a page of the story and put the pages together into one book. Discuss as a group the conclusion of the story. Will the characters make it to their destination?
-Amy