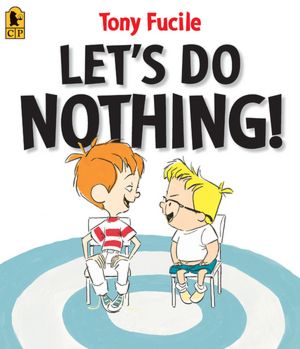 Image from BarnesandNoble.com
Frankie and Sal are bored. They've done it all. Played sports, painted pictures, baked, played board games, read all the comic books. What else can they do? How about 10 seconds of nothing! Although it starts off well, Frankie's overactive imagination gets the better of him in each scenario of nothing that Sal dreams up. Then Sal has a BIG, a REALLY BIG realization: there is absolutely no way to do nothing! Sal and Frankie know that they're geniuses and they know exactly what to do next, "Let's do something!"
Fucile spent over twenty years designing and animating for cartoon feature films and you can see how his experience has influenced his artistic style. The ink, pencil, and acrylic illustrations are cinematic, alternating between wide shots that capture the boys' environment and close ups that isolate the actions and reactions of the two characters. The text is all dialogue, with Frankie's words in bold and Sal's in regular font so the reader can easily distinguish one from the other.
This book is great for preschool and up and would be fun to share with a beginning reader one on one. Read the book out loud and then read it again with each of you reading Frankie or Sal's dialogue.
Before or after you read the book ask the kids if they think it's possible to do nothing. And if so, how do you do nothing? What if you blink like Frankie? What if you're thinking, does that count?
Frankie and Sal pretend to be statues in the book, so follow up with a game of
freeze tag
or
statues
. Candlewick has nice "
non-activity kit
" with great group activities that tie in with this book.
Learn more about Fucile, his animation background, and his leap from film to books in this
Q & A
published by Candlewick.
-Amy