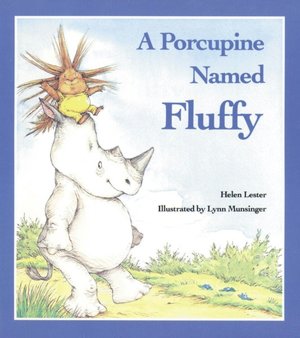 Image from BarnesandNoble.com
Mr. and Mrs. Porcupine were overjoyed at the birth of their first child, but what to name him. Prickles? Needlerozer? Qullian? In the end, they choose Fluffy. But as Fluffy grew up he began to doubt that he was fluffy at all. He had problems that a fluffy porcupine shouldn't have. He poked holes in his mattress when he accidentally rolled over and he had a very unfortunate incident with an umbrella. So he decided to become fluffier. He imitated pillows, covered himself in whipped cream, and ate a whole bag of marshmallows. But nothing worked, he just wasn't fluffy. One day he walked along the road, thinking of ways to become fluffy when he met a very large rhinoceros who growled and asked for Fluffy's name. When Fluffy told him, the rhinoceros began to smile, then giggle, and pretty soon he was rolling on the ground laughing. Fluffy was not amused, but he politely asked the Rhinoceros his name. After some hemming and hawing, the rhinoceros finally told him that his name was...Hippo! Fluffy laughed and they became best friends.
Each word has been carefully chosen, so even though the text is short, it is very descriptive. There's a tongue-in-cheek quality, which seems very appropriate because Fluffy just isn't fluffy. The illustrations work so well with the text because they have the same humorous quality. I especially love the pages that show Fluffy trying to be fluffy; his face is priceless. And I like the subtle moral of the story: you don't have to conform to your name to be your true self.
Use this story with preschoolers and use it as a jumping off point to talk about texture. Put different items in small boxes and pass them around so they can feel each one. If you want, put a lid on the box and cut a hand-size hole in the side. Then kids can feel the texture without seeing the object. Ask them to describe the texture. Ask the kids to help you sort the boxes into two piles: fluffy and non-fluffy.
If you're reading this at home, look for opportunities to talk about texture as you go about your day. What does the carpet feel like on your feet? How about a bath towel after bathtime? Can you describe the texture of your lunch?
Use this book for a storytime about opposites. It's also a book commonly used in storytimes or units about names. Pair it with
Chrysanthemum
or one of the other books I've written about that feature
names
. Or use it for a storytime on rhinos and pair it with
Hippo! No Rhino!
-Amy