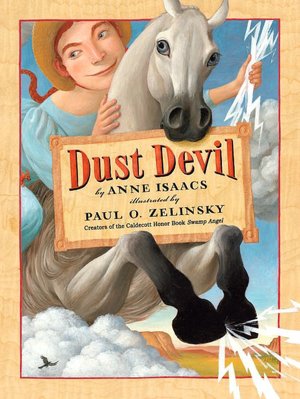 Image from BarnesandNoble.com
This rip roaring tall tale is the continuing story of Angelica Longrider, first started in the Caldecott Honor Book,
Swamp Angel
. Now a resident of Montana, larger-than-life Angel befriends her neighbors and sets about taming the Wild West. She tames a dust storm that turns out to be a gigantic horse she names Dust Devil. Their tussle creates the Grand Canyon. Angel and Dust Devil go on to chase an evil band of terrorizing robbers, Backward Bart and his Flying Desperadoes, across the whole of Montana, thus creating the Sawtooth Range. Although this book is the sequel to Swamp Angel, it can be read as a stand alone book as well.
This original tall tale is full of exaggerated plot points and larger-than-life characters. Frequently the events of the story are said to create particular geographical land markers, such as the Grand Canyon and the buttes of Montana. Taming the Wild West is the theme of this good versus evil story, which leads to a rewarding resolution. Although some characters in the story question Angel's ability to do things based on her gender, Angel is not a woman to take no for an answer. She is a strong female protagonist, cut from the same cloth as her male counterparts such as Paul Bunyan and Pecos Bill.
The story has an episodic plot; however the episodes are sequential with characters accumulating from the first to the last. Although some children may have difficulty sitting still for the book to be read all at once, the episodic nature of the story allows it to be easily broken up into smaller chunks. In addition, this story makes a wonderful reader's theatre candidate. Have one class or group present Swamp Angel and another follow up with Dust Devil.
The text is a joy to read aloud and is filled with wordplay, such as reverse speaking Backward Bart, and humorous hyperbolic phrases, "They were pricklier than porcupines in a cactus patch." Try talking like Backward Bart after reading the book. See if you can say the alphabet backwards. How about rhymes like Twinkle, Twinkle Little Star?
The Montana setting is very specific and wonderfully depicted through the American primitive style illustrations, although this is a tall tale, so size, distance, and time are often exaggerated. Talk about the exaggerated elements in the story, Backward Bart's extreme ugliness, Angel's size, and the toughness of Aunt Essie Bell's biscuits.
Create a Tall Tales Hall of Fame by drawing pictures of Angelica Longrider and other characters from tall tales on large poster board. Have the kids pick out the highlights of each character's adventures and post those along with information such as birth place, parents, siblings, sidekick, etc.
-Amy