Image from Anderson Press USA
Walking by a hat store, Millie is quite taken with a feathered hat she sees in the window. She tries it on, only to discover that it's too expensive! Poor Millie isn't sure what to do; she doesn't have a penny in her purse. Luckily the man behind the counter has the perfect hat, it can be any size, shape, or color, you just have to imagine it. So Millie takes the invisible hat out of the hat box and begins her walk home. Millie's hat takes all sorts of wonderful shapes and colors as her imagination is feed by the sights on the streets. She soon realizes she's not the only one with a hat - everyone has a marvelous hat!
Kitamura, although not very well-known in the U.S., is very popular in Britain (hence the British spelling – Marvellous) and has more than 20 children's books under his belt. His direct writing style saves this book from becoming overly precious and instead turns it into a remarkable adventure.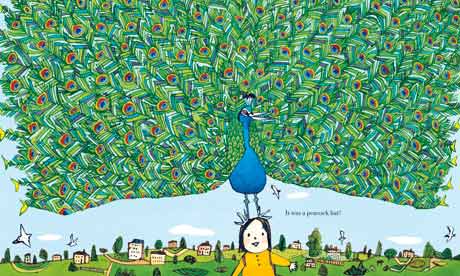 Image from guardian.co.uk
The illustrations show people of all ages, colors, shapes, and sizes. It's fun to look at the illustrations and see how the wonderfully imaginative hats reflect the personality of the person wearing them. For instance, the girl carrying her violin case has a metronome for a hat and the boy on the skateboard has a race car hat.
Macy's wonderful selection of hats
After you read this book, see if you can be as observant as Millie as you walk down the street. It's easy to walk past the same houses and stores each day without really seeing the details. Take a moment to notice what's growing in gardens and parks, and the items on display in windows. Take a field trip to the hat section of a department store and try a few hats on. (My brother and I still find the hat section of stores fascinating.) What kind of hats do they inspire? Get out some paper and crayons and draw have each child draw their own marvelous hat.
This book appeals to elementary school age kids, which means you can take on more complex crafts. Here's a video tutorial for a versatile
paper bowler hat.
Also check out the hat crafts, rhymes, and songs mentioned in my posts about
Go, Dogs, Go!
and
A Three Hat Day
.
-Amy